ASPARAGUS ALFREDO TART
Just as the Christian holiday signals rebirth, the spring season brings renewal.
Lighter clothing, lengthier days, the long-dormant ground softening to bring forth the first tender shoots of asparagus, ramps, and sweet green peas.
Fresh Vegetables – Farm to Table
Though farm-to-table and the use of local, seasonal foods are current trends in the culinary world, they really aren't new at all. Families traditionally have relied on what crops were ready in the field to see what was on the menu for the day.
Although the best cooks understand that there is no better quality than fresh vegetables, rinsed free of soil cooked just fork-tender, and finished with a swirl of creamy butter and a sprinkle of coarse salt. No expensive pan or best-selling cookbook can improve on the easy perfection of Mother Nature.
Check Out These Popular Recipes on the Blog:
Zucchini and Yellow Squash Casserole
Early Spring Vegetables

Ramps – Similar to garlic and onions, ramps have a strong, garlicky taste
Spinach – Spinach is a delicate, soft green that has a slightly bitter flavor
Fiddleheads – Young fiddleheads are edible and have a slightly nutty, asparagus-like flavor
Morels – Morels are a wild mushroom with a nutty, earthy flavor
Asparagus – Asparagus is a spring vegetable with a mild, slightly sweet flavor
A Kitchen Staple – Puff Pastry
This asparagus tart uses a freezer staple — puff pastry — that can transform almost anything into something special.
Puff pastry is a baking miracle – a delicate pastry that has little butter pockets carefully folded and turned into this wonderful crust that can quickly and easily be fashioned into puffed pastry pizza, appetizers, or delicious desserts with none of the time-consuming prep.
But if you want homemade puff pastry, I found this great fast homemade puff pastry recipe on Food Network – I can't wait to try it!
I keep it to wrap around meat – fish, chicken, or beef – add cheese and vegetables, or cut into strips and brush with herbs for a quick appetizer breadstick.
A fourth or half of a sheet makes a perfect palette for a little tart. Add a little sauce or cheese, berries, or sauteed, sweetened apples with raisins and cinnamon for a comforting, quick apple dessert.
What Kind of Cheese Goes Well With Asparagus?
Several types of cheese pair well with fresh asparagus, most of them having a strong or nutty flavor like Parmesan, Parmigiano Reggiano cheese and Gruyere. These all provide a great flavor contrast.
Other asparagus tart recipes use soft cheeses like ricotta or marscapone and they are equally delicious, but I like using this creamy sauce.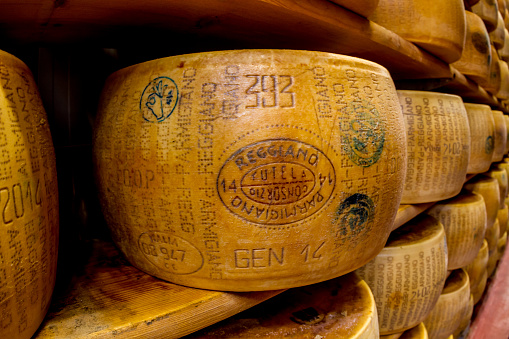 Parmsan vs. Parmesano Regianno
According to the trademark laws in Italy, the cheese cannot be called Parmigiano Reggiano unless it's made in Italy according to a specific recipe.   Parmigiano Reggiano is always made in Italy, while the Parmesan cheese can be made anywhere else – there are no restrictions on the name Parmesan.
Parmesan cheese is produced to try to duplicate the flavor of Parmigiano Reggiano.
Also, fresh soft, creamy cheeses make a delicious base in dishes like this tart. Ricotta can be the perfect tart base – but remember in a pinch you can substitute cottage cheese, just whip it with a little heavy cream to improve the spreading texture.
Similar to an asparagus parmesan tart using ricotta cheese, this cheesy asparagus tart uses a modified alfredo sauce flavored with the wonderful Parmesano Reggiano (if it isn't available to you, regular parmesan is just fine.)
Do You Wash Asparagus Before Cooking? How Do You Trim Asparagus?
I was taught by my grandmother to bend the asparagus stalk slightly and it would "snap" in just the right place. Then you could use the top part as a guide to cut the other stems down.
This is more or less true, but it seems like that is a lot of waste to a delicious (and sometimes slightly expensive) vegetable.
A vegetable peeler can also be used to shave off any thick outer skin to reduce waste.
Always rinse asparagus stalks before cooking in case there is a little grit left over. But you must dry them with a towel if you plan to use dry-heat cooking methods like roasting or sauteing so it doesn't steam instead of brown.
This is a great rule of thumb for most things you cook – dry or pat dry with paper towels! Skin will be crispier, crusts will be crustier, and roasted vegetables will actually be – roasted!
How Do You Keep Asparagus From Getting Soggy?
Don't overcook it! As a general rule, steam delicate vegetables instead of boiling them – all overcooked vegetables will lose their appetizing color and crunch if you boil them to death.
The asparagus can be steamed in the microwave or stove top, but it just needs to cook to "Crisp Tender" – soft enough to chew, but still has a little bite.
Before arranging the asparagus spears on the tart, dab them with a paper towel to remove any extra moisture.
Why Does Eating Asparagus Make Your Pee Smell?
Just answering this here because EVERYONE ASKS.
The reason for smelly urine after eating asparagus appears to be asparagusic acid, a compound high in sulfur and abundant in asparagus. When your body digests asparagus and breaks down asparagusic acid, it releases volatile components that are responsible for the foul smell of asparagus urine.
Making puff pastry tart too soon could make the pastry soggy. Instead, prepare your tarts and cover them until ready for cooking.
Make certain the filling is not too wet as this will keep the crust crispy.
Cheesemonger Tip
Don't be afraid to ask the experts when you are shopping for cheese – even many supermarkets have a specialty cheese section. If your first choice isn't available, it's great to have an expert opinion of what substitutions can be made with what is available.
Asparagus Alfredo Tart Recipe
This light tart recipe uses freezer-friendly puff pastry and a quick and easy homemade alfredo sauce. A perfect taste combination of parmesan and early spring asparagus. Pair with a green salad for a great lunch or dinner!
Asparagus Alfredo Tart
This light tart uses freezer-friendly puff pastry and a quick and easy homemade alfredo sauce. Perfect taste combination of parmesan and asparagus.
Ingredients
1/2

Cup

Butter

1 ½

Cups

Heavy Whipping Cream

1

Teaspoon

Garlic

Minced

½

Teaspoon

Salt

¼

Teaspoon

Pepper

2

Cups

Freshly Grated Parmesano Reggiano (or regular parmesan if unavailable)

1

bunch (1 lb) asparagus

trimmed and lightly steamed
Instructions
Preheat oven to 400 degrees.

Open your thawed puff pastry and place it on a sheet pan lined with parchment paper.

Pinch the edges of the pastry to form a little "dam." Set aside.

Trim any tough, woody ends of the asparagus.

Lightly steam the asparagus (I do it in a plastic bag in the microwave for about a minute. Just add trimmed asparagus and about 2 Tablespoons water)

Add ice to your "steaming" bag or hold steamed asparagus in a bowl of ice. You just want to keep the bright green color and stop the cooking process.

Add the butter and cream to a large skillet.

Simmer over low heat until the cream reduces by 1/3 to 1/2 begins thickening.

Whisk in the garlic, salt, and pepper for one minute.

Whisk in the parmesan cheese until melted.

Spread the thickened alfredo sauce generously over the pastry.

Arrange the asparagus on the sauced pastry and bake for 20 to 30 minutes, until golden brown. Remove from the oven and allow to set and cool for 3 - 5 minutes.

Cut into wedges or squares and serve.